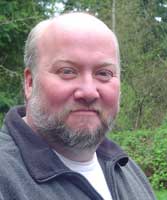 Mural artist David Heck has been producing quality hand painted murals and custom signs since 1982.
With over 33 years experience, David has built the skills and versatility that enable him to produce a large variety of Murals, Signs, and Custom Graphics. With mural styles as simple as cartoon characters for a child's room all the way to photo realistic murals that make you want to walk right into them, David can bring the right mix of color, design and excitement to your walls.

David has painted murals as large as 23,000 square feet, down to ones the size of a family portrait, and since he works with both Commercial and Residential clients, he has done them on all kinds of surfaces. Murals can be painted onto wood, metal, or canvas and then installed on site, or most often, painted directly onto a wall.

While David is based out of Seattle Washington, he travels throughout the United States doing murals for his clients such as Luxury Resort builders, Celebrities, Sports figures or anyone else with a desire to have a quality mural done. David can work with any budget as well, helping to design exactly what each client wants at a price they can afford.

Check out our gallery of photos and get a little taste of the life, beauty and attention we can bring to your project. Estimates are always free, so drop us an email or give us a call with any questions you may have and let us help bring your artistic dreams to life.

---